Family Preservation And Kinship Foster Care
In continuation of our mission to protect vulnerable children from deprivation of family, we extended our work in 1995, to prevent the risk of separation of children from their families or suffer neglect. Initially implemented through the State Government sponsored "Bal Sangopan Yojana (BSY), the Family Preservation services continue to support the child against disruption in his/ her life, to the extent possible. In many cases the family is dealing with chronic or serious illness, death, disrupted family life due to desertion, violence or natural calamities. In ways that are called for, we strive to strengthen them. Among those being supported, many are single parent (mother in most cases) families.
IAPA takes a holistic and dynamic approach in working with each child and the family. In addition to the maintenance provided under the scheme, we draw upon multiple resources from within IAPA's free Support Services, other community resources as well as from well-wishers. Important part of our work is to build trusting relationship with the child and the family members while guiding, counselling and eliciting their participation at each stage in arranging for the child's care, whether within their own family, a kinship family or a family in the neighbourhood.
Children are brought before a Child Welfare Committee (CWC) directly by family for admission to an institution in some cases. Others may be referred to IAPA by schools, hospitals or other NGOs. CWCs who are the decision making authority for children in such situations, tap IAPA's resources. As a service provider, IAPA is assigned the child and the family for assistance under the Scheme. Preference is given to children who are orphaned, destitute, living in families overwhelmed by illnesses or being raised by an impoverished single parent.
It has been possible to help the family tide over the crisis period in a shorter and longer duration and set them towards self-reliance. Under the Scheme, maintenance remains available till the child is 18 years of age. IAPA continues its support in cases where the child is mid-stream in his/her education or training. Financial and other help is secured through net-working, appealing for fee reductions at educational institutions, for instance; and providing emotional support where that is called for, when the youth is struggling to cope.
Our experience of several decades suggests that the aim of enabling the child to continue living with his/her own family is achieved with the available help in many cases, especially where the single, widowed mother who is left bereft; and financially and emotionally ill-equipped to raise the child single-handed is concerned. When the own family is faced with overwhelming circumstances they cannot cope with, within the available help, a family from the kinship group is enlisted to nurture and give stability to the child. In a few cases, impoverished grand-parent/s or relative/s of children have become their default parents when their own parents have died.
In addition to the Government Scheme, corporate financing is secured to extend help to children living in certain pockets of Mumbai. Many children belonging to communities living within these areas are abandoned, orphaned or have lost their parents to debilitating diseases. Responsibility for their care falls on the surviving relatives as the foster caregivers. Since these guardians are themselves struggling to survive, the child's education and socialisation gets gravely neglected. Support under this program goes a long way in providing the necessary rehabilitation to such children and their families too.
Help to the child and the family is comprehensive. It includes capacity building Workshops and Camps held to promote the health and well-being of the children.
The Process :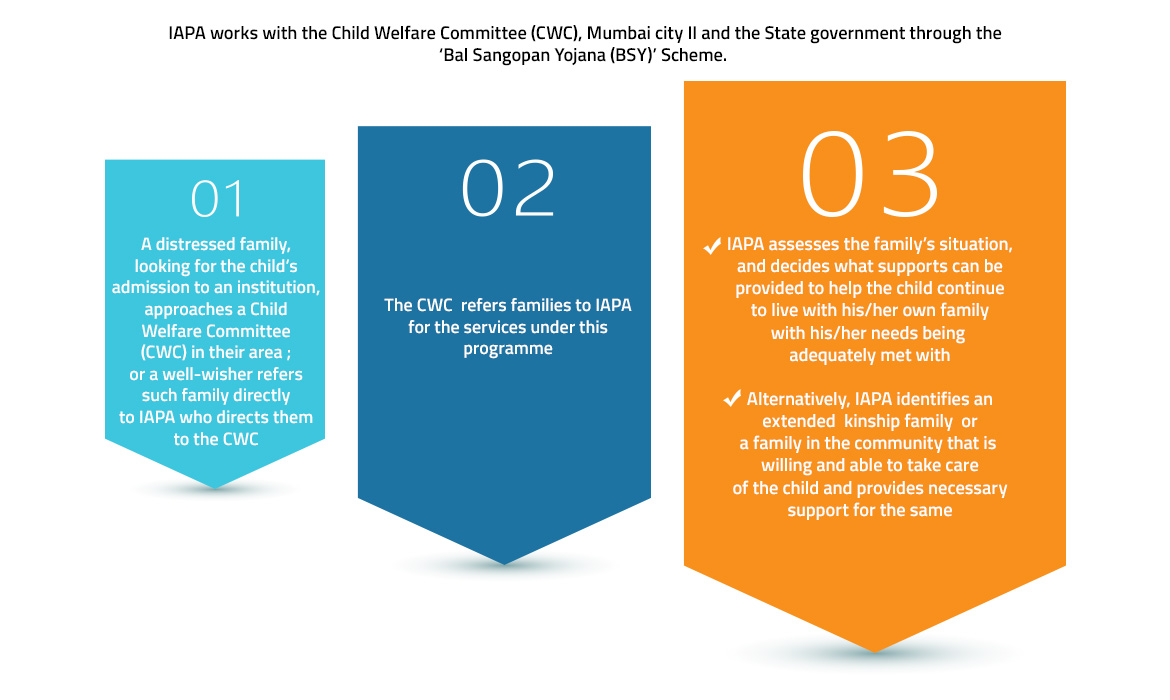 Mamta Ki Chhaon Mein